Telemammography gaining momentum with same-day diagnostic results and video phone consultations
The pandemic delayed breast care for many women. We all know, however, that you can't put cancer on hold. Combine that with the intensifying shortage of radiologists in this country and we're seeing more and more patients who desperately need care.
Fortunately, we can provide screening mammograms and same-day diagnostic results remotely to many of those patients who lack access locally – for whatever reason. Perhaps the drive is too far, or their local provider doesn't have a breast imaging specialist.
vRad first launched its remote diagnostic mammography program back in 2016, connecting patients and technologists with fellowship-trained, board-certified radiologists via live video consultation. Some providers and their patients were tentative at first – this was, after all, years before telehealth popularity skyrocketed during the pandemic – but the times, they are a changin'. Our telemammography volume is up 22% for each of the past three years. We'll read 130,000 studies this year alone which means more women are accessing the specialized care they need.  
To illustrate how simple and effective telemammography can be for both screening mammograms and diagnostic breast imaging, let's review the process in three simple steps:
Step 1: The mammogram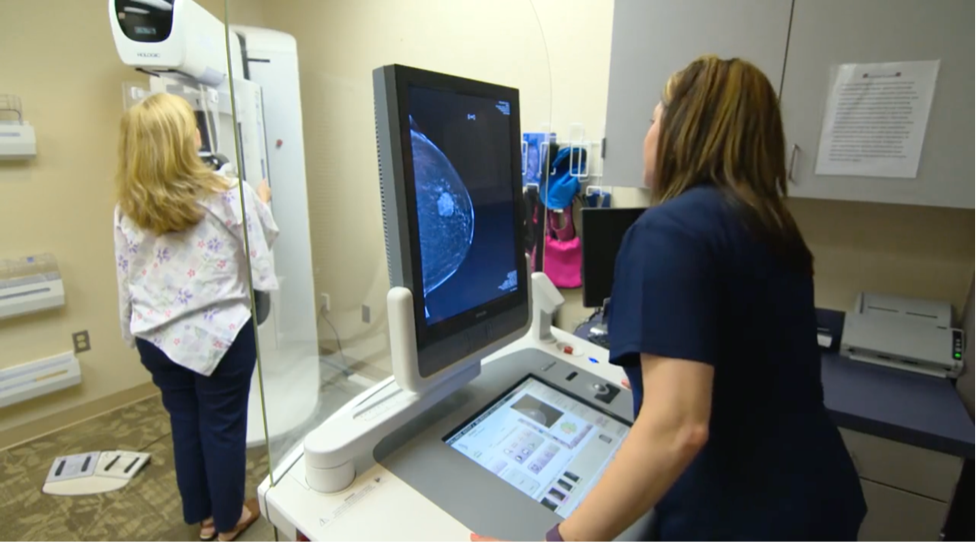 Telemammography begins just like any other mammogram, with the patient going to the facility and meeting with their technologist. The technologist goes over the reason for that day's visit and explains everything that will happen in great detail. (Click here for one technologist's story how telemammography is helping her 134-bed hospital in rural Virginia.)
Once the exam is complete, the technologist sends the images to the radiologist.
Step 2: A fellowship-trained radiologist reviews the mammogram
This is when our fellowship-trained, board-certified radiologists get involved – reading examinations on high-quality mammography workstations identical to what one might find in any hospital around the country. In fact, considering the budget problems some health systems are currently experiencing, our breast imaging team may often be using better equipment than an on-site radiologist would have in their reading room.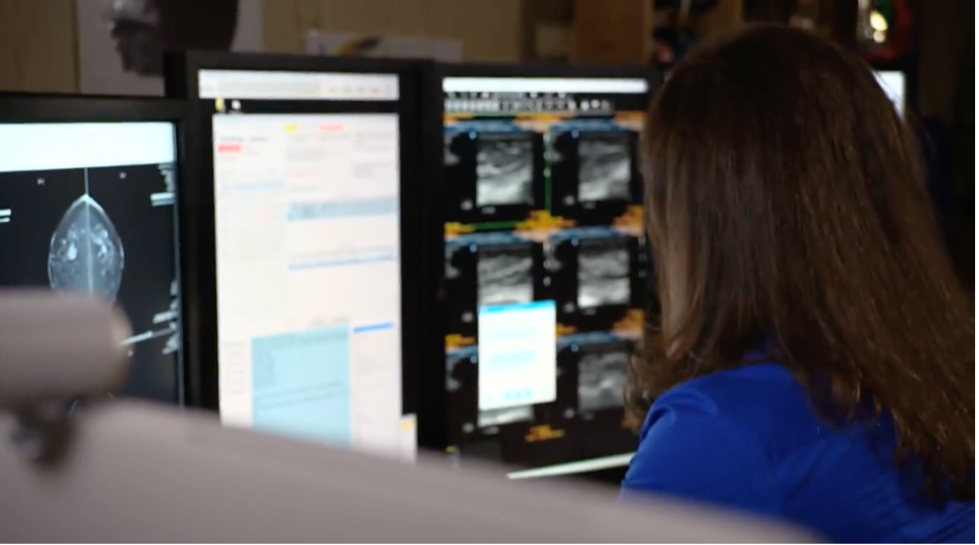 The actual interpretation by a fellowship-trained radiologist, with screening results within 48 hours on average, is just one of the advantages telemammography can deliver. Our program can also bring a certain level of consistency that many of today's hospitals struggle to maintain. In many parts of the United States, staffing radiologists is a real challenge – let alone finding one who's a subspecialist, keeps up with the latest technologies, and enjoys interacting with patients.
We also take care of all the clinical and regulatory complexities required of a breast imaging program, including BI-RADS tracking as a crosscheck and Lead Interpreting Physician (LIP) services if needed.
Step 3: Same-day diagnostic results with face-to-face radiologist consultation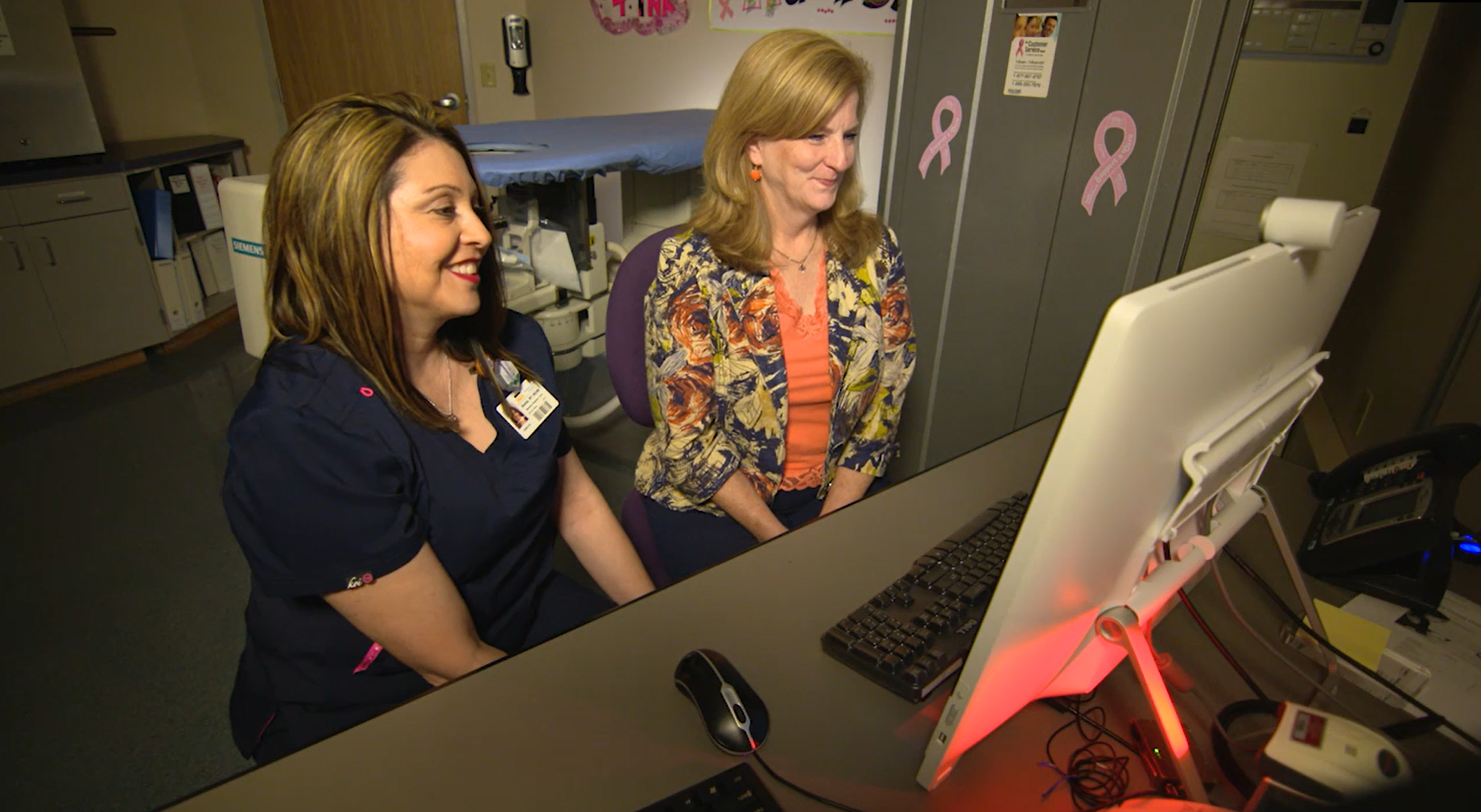 If the radiologist determines additional diagnostic imaging is required, the patient returns to the office for the procedure. Before the patient goes home, they will receive their results directly from the radiologist, face-to-face via live video phone. This personal interaction is critical and one of the main reasons the program has been so well accepted. The radiologist may not physically be in the room, but they can pick up on changes in body language and spend additional time talking about certain details when necessary. And the technologist never leaves the patient's side, providing an extra layer of support throughout the entire discussion.
The radiologist will often use the video phone to collaborate with the technologist on the case as well. This includes reviewing images, highlighting concerning findings and discussing the patient's diagnosis.
Once the consultation is complete, the technologist is still there with the patient to review everything that was discussed. Patients are often overwhelmed when they receive news, whether it's good or bad, and they may think of additional follow-up questions after the consultation is done. The technologist can help field those extra questions, even reaching back out to the radiologist if needed.
Telemammography is here to stay
Technologists are frequently thrilled to bring a breast center-level of care to more women in their community. In fact, they are often our biggest advocate, talking patients through the process and providing comfort as needed if a patient is feeling uncertain in any way due to the telehealth aspect of their mammogram. We recently surveyed a large number of our mammography technologists to get their input, assuming maybe there would be some things that might need changed. We were delighted to find that there were no complaints at all about the process; the technologists are truly happy with this service.
Our remote mammography program is thriving now more than ever. Today's hospitals and health systems work to provide high-quality care that is also efficient and economically sound, and telemammography helps them accomplish all of those goals at once.
There might be a radiologist shortage affecting much of the United States right now—but with telemammography, breast imaging specialists are just a video call away.
If you'd like more detail on how the program works, I invite you to visit our website which has a host of resources. Or provide your contact information here and mention my name – I'd be happy to have a conversation with you. 
Arlene Sussman, MD, is the director of breast imaging for vRad.
Other content sponsored by vRad